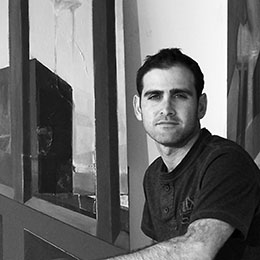 We only feature selected examples online. Please contact the gallery for additional works or if you would like to be notified of new arrivals by this artist.
Michael Azgour was born in California in 1979. He splits his time between San Francisco and Poland as both painter and teacher.

His paintings are expressive and geometric abstractions informed by a process that combines a strategic, realistic technique with pattern and repetition.

Although the disparate visuals and juxtaposed compositions in his work appear random, they are bits of narrative from the artist's own life and travels.

Azgour received an M.F.A. in Studio Painting from Academy of Art University, San Francisco. He also attended University of California at San Diego, Stanford University, Continuing Studies and University of British Columbia. He has exhibited widely in the United States, United Kingdom, Poland, and Hungary. His work resides in the collections of the Than Mor Art Museum in Hungary, Lyon's Gate Entertainment Corporation in Los Angeles, CA, Hotel Union Square and the Stanley S. Langendorf Foundation in San Francisco and Aviation Capital Group in Newport Beach.

Recently the artist has been drawn to explore the ubiquity of photography in contemporary culture and the changing role this has played on the individual experience. The work speaks about how we interact with images today, referencing features found in our snapshots and video clips. Paint becomes pixel, blur or distortion mirroring the digitally manipulated portraits and albums that populate our social media profiles. Through psychological mood and fragmented depictions he asks us What is Real?