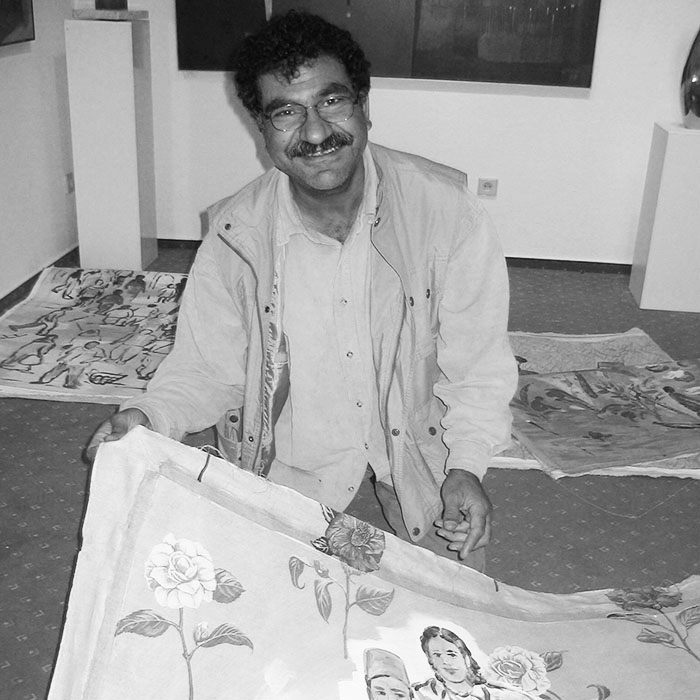 We only feature selected examples online. Please contact the gallery for additional works or if you would like to be notified of new arrivals by this artist.
Egyptian artist Mohamed Abla creates imagery that spans from realistic depictions of people in the streets of Cairo to paintings that were inspired by 1950 photographs of his family photographs to cultural renditions of the hieroglyphs and other iconography of his native roots. He is like a guide who shows us an Egypt we wouldn't see as a tourist.

His passion for his country is not only seen in his artwork but has spanned to socio-political realm where he has oftentimes risked his safety through an adamant promotion of culture and contemporary art. His convictions about exposing his people to the treasures of art and determination towards being able to teach its history and encourage its future are admirable.

Whether viewing his early watercolors, black and white paintings, Chaos paintings, Nostalgia paintings or depictions of life at the River Nile, we are given a rich and comprehensive glimpse into the roots of the artist, his people and the rich Egyptian heritage both past and present. There are only a handful of Egyptian artists who are recognized outside of Egypt but Abla is one of the few who is world renowned for his attempts at building cultural bridges through the medium of art.

Because of his long career, passion for the cultural climate of his country, and prolific output, he was chosen as one of the artists to participate in a major exhibition of Egyptian contemporary artists of the millennia, which traveled extensively to museums throughout Europe.