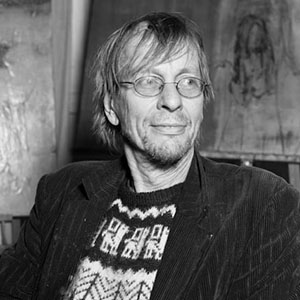 We only feature selected examples online. Please contact the gallery for additional works or if you would like to be notified of new arrivals by this artist.
Thomas Ritter was born in Hoxter, Germany in 1955. He lives and works in Hanover, Germany and Vastergodland, Sweden.

Ritter's complex abstract paintings are inspired by his love of nature.

He often spends time in the countryside, where the various landscapes and their variables of time, geography and light lend distinct impressions of color, shape and mood. These impressions then become materialized through layered compositions. Grounds of acrylic and filler compound create a base on top of which oils are then added to educe lushness, blurred lines and density. Amongst these abstractions, Ritter often includes outlines of figures to place man as center of nature.

During 1984 -1989 Ritter undertook a course of studies in free art under Professor Redeker at the Hanover College. He lectured on nude and figure drawing at the University of Hanover from 1989 –1997. He has exhibited widely throughout Europe.
In Ritter's work, the numerous nuances in color, the blurring and painting over, and the working of color with a spatula are all displayed before our eyes without having the effect of looking constructed.