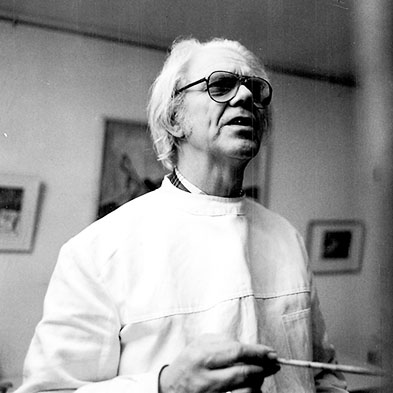 We only feature selected examples online. Please contact the gallery for additional works or if you would like to be notified of new arrivals by this artist.
Clemens Kindling was born in Halle, Germany in 1916. He died in Germany in 1992.

With professors who were themselves students of such masters as Renoir and Cezanne, Kindling developed from this historical influence that integrated with his own voice and carried throughout his pursuant life's work. His style was composed of an organic and lively view of people and objects absent of rigid straight lines and filled with uneven compositions. Unlikely hues skewed reality while trademarks of the era's foray into expressionism was seen through black color fields and other pivotal signatures.

During wartime, while immersed in the societal and political hatred against Russia, Kindling spent time stationed there capturing the faces and environment with tenderness. Seeing life not through a soldier's eyes but through the lens of humanity, he created a series that eventually became an important and thoughtful backward glance called "People of Russia."

Kindling attended the Burg Giebichenstein Art Academy, rich with the burgeoning Bauhaus influence and a noted early center for German Expressionist exploration. He received a scholarship to the Unified State Schools for Free and Applied Arts in Berlin in 1929.

After retirement, Kindling's productivity exploded as he created a body of work that mirrored all that enveloped him: his wife, life and friends as well as the landmarks of his existence from a sawmill near his home to the cities he encountered on travels to places such as Switzerland.