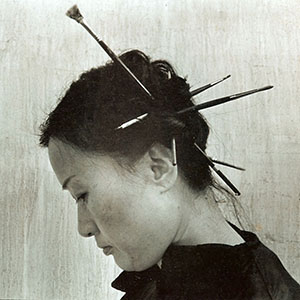 We only feature selected examples online. Please contact the gallery for additional works or if you would like to be notified of new arrivals by this artist.
Rimi Yang was born in Osaka, Japan in 1962.

Improvisational and instinctual, Rimi Yang's paintings are intuitive balancing acts of color, texture, and technique brought forth from a self-professed chaotic emotional duality. Her work reflects a subtle blending of her Korean but Japanese-raised roots with life lived largely on the West Coast. This is seen through a juxtaposition of traditional and contemporary compositions infused with cultural imagery. Whether figurative or abstract, she builds up and tears down surfaces to search for reason. This produces vibrant and colorful explorations rich with iconic imagery spanning Eastern and Western art history.

In 1986 Yang studied at Bowling Green University where she won First Place in Prints and Marietta Kirschner Wigg Print awards. In 1991 she migrated west to Los Angeles were she studied at California State University, the Los Angeles Academy of Figurative Art and Otis College of Art and Design followed by a summer in Florence, Italy at the Florence Academy of Art. In 2007 she spent time in residency at Pouch Cover Foundation in Canada. She has exhibited across the United States, British Columbia, Newfoundland and Europe.

Yang's paintings mix the complexity of abstract and collage techniques with a prominent central figure.